INDIA TODAY

Smartphone Slaves

More and more people are losing themselves to the virtual world, spending hours on social media and web chats. Experts say it is time to treat this addiction as a disorder.





BUSINESS TODAY

THE BLACK HOLE

Why the new Black Money Act is bound to fail in bringing back the illicit cash stashed abroad.





COSMOPOLITAN

Kalki Koechlin: Girl undaunted


Yes, she's a powerhouse of talent and Bollywood's feminist fist. But she's also just a girl, standing in front of life—and living it like a boss!





Read now
Subscribe
MEN'S HEALTH

Instagram's super fit superstars

Men's Health profiles six social media stars who may not have eloquence or traditional turn of prose. Yet, their photos and inspirational quotes motivate thousands of followers to hang on to their every thought.

.

.



WOMEN'S HEALTH

Shruti Haasan: Girl on fire

When we speak to Shruti Haasan, she's landed in Chennai that very morning from Dubai , fresh off her win of the best actor trophy for the Telegu film Race Gurram at the South Indian International Movie Awards. 2015 has been a good year-in June, she won the best actor award for the same movie, a ceremony she attended in Chennai with her father Kamal Haasan. When we ask her about her 'best debut' trophy for 2010's Luck, she's a little prickly: " I don't mean to belittle awards but I work because I love acting. As much as I love awards , they're not a motivat ing factor."



AUTO BILD
Small is good

Compact SUVs is the flavour of the season. Little wonder that Volkswagen too joins the bandwagon with its up-based small SUV, the Taigun.

Read now
Subscribe
READER'S DIGEST
Simple Ways to a Healthier Life

You don't need to be a gym junkie or adopt a radical diet to get in better shape. Modest changes are easy to achieve. Leading experts in our cover story help you with 14 resolutions to transform your health.


Subscribe
HARPER'S BAZAAR

Sonam Kapoor

From her daily glass of red wine and whipping up healthy meals to dehumidifying her massive shoe collection, Bollywood's style icon opens up about her everyday obsessions.




PREVENTION

Boyhood

In a year that he's become an Ironman, taken the Pinkathon to next-level success and turned 50, Milind Soman is still the guy next door to those of us who grew up in the '80s and '90s.
GOOD HOUSEKEEPING

Cakes & bakes

That perfect brown on the pie or the soft bubbling cheese... a pure delight! So switch on your oven and try these sweet and savoury dishes (tried-tested in GH food anchor Nandini Banerjee's kitchen), guaranteed to please children and adults...
INDIA TODAY TRAVEL PLUS
In Kafka country

Life in the Czech Republic is steeped in contrasts: you can go in a matter of minutes from centuries old architecture to pulsating modern music, lose yourself in its history or its fantastic cuisine. Actor Kunal Karan Kapoor is awestruck by the surprises it throws your way.



Issue highlights

DESIGN TODAY

Bathroom & Kitchen
Make a plan to give your house and yourself a gift: Renovate your kitchen or bathroom this season to celebrate the New Year with a brand new look. Nothing enhances the convenience and subtle aesthetic quotient of your home more than a perfectly functioning and good looking bathroom or kitchen. Figure out your budget, then match your style and practical needs to it and create the perfect space. Remember not to think of these areas in isolation. Ideally, the bathroom and kitchen should carry forward the main design theme of your other rooms. For instance, if you have worked with a palette of vibrant colours in the rest of your home, do not opt for a black and white, post modern bathroom. It will stick out like a sore thumb and reek of a lack of taste

In this issue, check out the various design possibilities for these two spaces in our Design Focus section. Read our columnist Ankush Aggarwal's article to know more on the 'dos and don'ts' and handy tips to add style to these inner rooms. Also take a look at our products' section to know what is available in the market for the rooms. Elsewhere in the issue, check out two houses one in Delhi and one in Ahmedabad. Finally, the regulars: Design Stuff, In Store and Design Calendar are all packed in here for your reading pleasure this year-end.



Issue highlights

GADGETS AND GIZMOS

Wear Your Attitude

The developing ecosystem around wearable gadgets today makes them handy devices and worth buying.

.



Issue highlights
Subscribe
MUSIC TODAY
Tabeer
'In his solo debut album 'Tabeer', the livewire voice of Shafqat Amanat Ali replete in its haunting beauty marries soul-stirring compositions to create an experience, which can only be termed as mind-blowing. A new sonic saga, this album defies the boundaries of language, styles, genres and musical cultures as singer-writer-composer Shafqat Amanat Ali meshes the old with the new, the earthy with the avant garde and lyrical beauty with sheer vocal might. SMS "TBR" to 54646 for exciting mobile downloads.


Album details
Buy now
BAG IT TODAY
Best-Loved Brands at Private Sale Prices
Bagittoday is a one-stop online shopping destination committed to delivering best brands at unbeatable prices. We have a comprehensive range of products and best-in-class consumer shopping experience. Bag It Today is a hub of top-notch domestic and international fashion brands offering an impressive assortment of products at discounts of upto 90%. Under the hood, it has quality products from 100+ brands for men, women and kids covering apparel, accessories, electronics, mobiles, home decor, health care and much more. Customer satisfaction lies at the pivot of all our endeavors and has resulted in garnering a huge base of happy buyers.


Online Shopping
HARVARD BUSINESS REVIEW
Bringing science to the art of strategy

Marrying empirical rigor and creative thinking to produce novel strategies that succeed.



Read now
Subscribe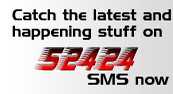 | | |
| --- | --- |
| NAT | National News |
| SPO | Sports |
| BIZ | Business News |
| INT | International News |
| NEWS | Assorted News |
| ASTRO | Daily Predictions |
| JOKES | Daily Jokes |
| ADU | Spicy Jokes |
| COSMO | Cosmopolitan |
| GH | Good Housekeeping |