INDIA TODAY
Trust Deficit

The spiralling trust deficit between Prime Minister Manmohan Singh and Congress President Sonia Gandhi becomes a crisis in Government as well as party.



BUSINESS TODAY
The Future of Search

Google gets down to doing what it knows best - developing new tech - to change your life.





MONEY TODAY

Breaking Free

How to manage the shift from job to business



COSMOPOLITAN
Lisa Haydon's ultimate summer guide!
Bright like a sunny day at the beach, actress, model and, funny woman, LISA HAYDON reveals her summer favourites, top tips and secrets...


Read now
Subscribe
MEN'S HEALTH
Leap for the stars

Arjun Kapoor, who has shown how determination, discipline and direction can make possible the transformations...Men's Health gives you an exclusive insight...



WOMEN'S HEALTH
Sucker Punch

Mandira Bedi is tough chick and sweetness all rolled into one super-fit package. She shares her tips for staying fit, happy and confident- no matter what life throws at you.



AUTO BILD
Small is good

Compact SUVs is the flavour of the season. Little wonder that Volkswagen too joins the bandwagon with its up-based small SUV, the Taigun.

Read now
Subscribe
READER'S DIGEST
It pays to complain

How to protect your rights as an empowered consumer.


Read now
Subscribe
HARPER'S BAZAAR
Sasheh

Making her much-anticipated debut in this month's Aurangzeb, Sasheh Aagha opens up to Bazaar about her career choice, being a Bollywood beginner, and living up to mother Salma's legacy.


PREVENTION
Neha Dhupia shares her healthy secrets
This actor was always the sporty go-getter. Now, she's added clean foods and cardio to her life and is feeling lighter and fitter than ever.


GOOD HOUSEKEEPING
Be Yourself, Be Happy

Ayesha Takia gave up a successful career in cinema for love, when she married her long-time sweetheart, restaurateur Farhan Azmi. Today, she is involved in her husband's restaurant business and is an entrepreneur in her own right. Here's what makes this wife, TV anchor and actor tick...



INDIA TODAY TRAVEL PLUS
In Kafka country

Life in the Czech Republic is steeped in contrasts: you can go in a matter of minutes from centuries old architecture to pulsating modern music, lose yourself in its history or its fantastic cuisine. Actor Kunal Karan Kapoor is awestruck by the surprises it throws your way.



Issue highlights
Subscribe

DESIGN TODAY

Hospitality Design: Hotels, Restaurants, Resorts & Spas
In this issue we highlight how design plays a pivotal role in ensuring a great hospitality experience. Design Today takes you to a pick of exotic and unique places in India and abroad—enjoy a visual feast and know what to look for when planning your next vacation. And for those of you who intend to enter the industry in whatever little way, to pick up some good ideas to ensure your place is 'design perfect'. Check out Fairmont Hotels and Resorts' first property in India. Known for extensive restoration projects at landmark hotels such as The Plaza in New York, The Savoy in London and Fairmont Peace Hotel in Shanghai, the brand has dramatically transformed a fort in Jaipur into a luxury hotel inspired by the region's rich and storied heritage. Similarly inspiring is the design of Rayavadee, a resort and spa set on the edge of Krabi's National Marine Park at the heart of the Phranang Peninsula in Thailand. Also read about the hotel Secrets The Vine Cancun in Mexico. This chic, contemporary adults-only haven combines the natural beauty of the Yucatan Peninsula with the elegance and unlimited luxury of a world-class resort. Another must-visit destination is the Smoke House Deli, in Bengaluru. The design firm behind this project, The Busride, decided to take an irreverent, fun look at 'serious' restaurant designing by introducing hand-illustrated interiors that draws heavily on the Garden City for influence.
Elsewhere, we feature two interestingly designed workplaces—one of an advertising firm in Delhi and another of a 'social workplace' in Amsterdam. Finally, check out our In Store section to know about the latest kitchen and bathroom appliances, furniture, furnishings and more...



Issue highlights

GADGETS AND GIZMOS
Living in a wireless world
Almost every gadget in your home can work without wires. In fact, anything that needs wires to connect is old fashioned.


Issue highlights
Subscribe
GOLF DIGEST INDIA
WORDS FROM THE WISE
Golf according to Jack Nicklaus, Marilynn Smith, Billy Casper, Raymond Floyd and others.


Issue highlights
Subscribe
MUSIC TODAY
Tabeer
'In his solo debut album 'Tabeer', the livewire voice of Shafqat Amanat Ali replete in its haunting beauty marries soul-stirring compositions to create an experience, which can only be termed as mind-blowing. A new sonic saga, this album defies the boundaries of language, styles, genres and musical cultures as singer-writer-composer Shafqat Amanat Ali meshes the old with the new, the earthy with the avant garde and lyrical beauty with sheer vocal might. SMS "TBR" to 54646 for exciting mobile downloads.


Album details
Buy now
BAG IT TODAY
Best-Loved Brands at Private Sale Prices
Bag It Today is an exclusive, members-only online shopping destination where Members discover premium-brands' private sale Boutiques, each open for just a brief span of time. Our focus is to make our members' best loved brands available at unbeatable prices. Membership is free and by invitation-only.


Online Shopping
HARVARD BUSINESS REVIEW
Bringing science to the art of strategy

Marrying empirical rigor and creative thinking to produce novel strategies that succeed.



Read now
Subscribe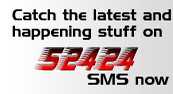 | | |
| --- | --- |
| NAT | National News |
| SPO | Sports |
| BIZ | Business News |
| INT | International News |
| NEWS | Assorted News |
| ASTRO | Daily Predictions |
| JOKES | Daily Jokes |
| ADU | Spicy Jokes |
| COSMO | Cosmopolitan |
| GH | Good Housekeeping |