INDIA TODAY

Gone Girl

An India Today investigation uncovers alarming rise in flesh trade after Nepal quake



BUSINESS TODAY
Are Indian CEOs overpaid?

Corner-office salaries shoot up while average compensation remains stagnant, causing concerns over the widening gap between ranks.





COSMOPOLITAN

Major motivated misunderstood mastermind Magnificent Maverick...in May 1990, those two words headlined Madonna as the cover star of Cosmo's 25th anniversary issue. Now, 25 years later, the icon sits down with Cosmo Editor-in-chief Joanna Coles and Music Editor Sergio Kletnoy to celebrate 50 years of power, provocation - and living that Cosmo-girl life.





Read now
Subscribe
MEN'S HEALTH

Shoot out hard times

Vijender Singh's life has been like a boxing ring. He has defeated adversities by using his bled-from-life wisdom and ambition. Here's what you can learn from him.

.



WOMEN'S HEALTH

There's something about Neha

In a world where youth and beauty define you, making you bow down to their every prompt, Neha Dhupia says, 'Bah! I'll do it my way.' She does, with a sense of humour, a matter-of-fact honesty and lots of laughs.



AUTO BILD
Small is good

Compact SUVs is the flavour of the season. Little wonder that Volkswagen too joins the bandwagon with its up-based small SUV, the Taigun.

Read now
Subscribe
READER'S DIGEST
It pays to complain

How to protect your rights as an empowered consumer.


Read now
Subscribe
HARPER'S BAZAAR

Elizabeth Hurley plays the queen




PREVENTION

The queen of ace

Saina Nehwal always believed she could do it. The World's No. 1 shuttler tells Priyamvada Kowshik how she got there and what the journey to the top has taught her.
GOOD HOUSEKEEPING

Chin up, always

Life dealt her a raw deal. She accepted what she could not change; changed the things she could - fought hard, stayed strong and emerged a winner - and then went on to counsel and help others emerge from their dark shadows. Meet Swapna Nair, the champ who stands tall at five feet...
INDIA TODAY TRAVEL PLUS
In Kafka country

Life in the Czech Republic is steeped in contrasts: you can go in a matter of minutes from centuries old architecture to pulsating modern music, lose yourself in its history or its fantastic cuisine. Actor Kunal Karan Kapoor is awestruck by the surprises it throws your way.



Issue highlights

DESIGN TODAY

Bathroom & Kitchen
Make a plan to give your house and yourself a gift: Renovate your kitchen or bathroom this season to celebrate the New Year with a brand new look. Nothing enhances the convenience and subtle aesthetic quotient of your home more than a perfectly functioning and good looking bathroom or kitchen. Figure out your budget, then match your style and practical needs to it and create the perfect space. Remember not to think of these areas in isolation. Ideally, the bathroom and kitchen should carry forward the main design theme of your other rooms. For instance, if you have worked with a palette of vibrant colours in the rest of your home, do not opt for a black and white, post modern bathroom. It will stick out like a sore thumb and reek of a lack of taste

In this issue, check out the various design possibilities for these two spaces in our Design Focus section. Read our columnist Ankush Aggarwal's article to know more on the 'dos and don'ts' and handy tips to add style to these inner rooms. Also take a look at our products' section to know what is available in the market for the rooms. Elsewhere in the issue, check out two houses one in Delhi and one in Ahmedabad. Finally, the regulars: Design Stuff, In Store and Design Calendar are all packed in here for your reading pleasure this year-end.



Issue highlights

GADGETS AND GIZMOS

Wear Your Attitude

The developing ecosystem around wearable gadgets today makes them handy devices and worth buying.

.



Issue highlights
Subscribe
MUSIC TODAY
Tabeer
'In his solo debut album 'Tabeer', the livewire voice of Shafqat Amanat Ali replete in its haunting beauty marries soul-stirring compositions to create an experience, which can only be termed as mind-blowing. A new sonic saga, this album defies the boundaries of language, styles, genres and musical cultures as singer-writer-composer Shafqat Amanat Ali meshes the old with the new, the earthy with the avant garde and lyrical beauty with sheer vocal might. SMS "TBR" to 54646 for exciting mobile downloads.


Album details
Buy now
BAG IT TODAY
Best-Loved Brands at Private Sale Prices
Bagittoday is a one-stop online shopping destination committed to delivering best brands at unbeatable prices. We have a comprehensive range of products and best-in-class consumer shopping experience. Bag It Today is a hub of top-notch domestic and international fashion brands offering an impressive assortment of products at discounts of upto 90%. Under the hood, it has quality products from 100+ brands for men, women and kids covering apparel, accessories, electronics, mobiles, home decor, health care and much more. Customer satisfaction lies at the pivot of all our endeavors and has resulted in garnering a huge base of happy buyers.


Online Shopping
HARVARD BUSINESS REVIEW
Bringing science to the art of strategy

Marrying empirical rigor and creative thinking to produce novel strategies that succeed.



Read now
Subscribe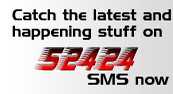 | | |
| --- | --- |
| NAT | National News |
| SPO | Sports |
| BIZ | Business News |
| INT | International News |
| NEWS | Assorted News |
| ASTRO | Daily Predictions |
| JOKES | Daily Jokes |
| ADU | Spicy Jokes |
| COSMO | Cosmopolitan |
| GH | Good Housekeeping |